Here at Ice Moon Prison, we have a habit of becoming fond of foods available only in other parts of the world.  When we visited eastern Canada, for instance, we were introduced to poutine and Montréal smoked meat.  When we visited Iceland, we were introduced to skyr.  Skyr, a kind of thick yoghurt, proved impossible to get in Australia, until late 2017 when three different brands materialized at once.  We purchased all three and reviewed them side by side.
Procal Dairies Icelandic Skyr

Melbourne-based Procal Dairies was the first to release its version of skyr in September 2017.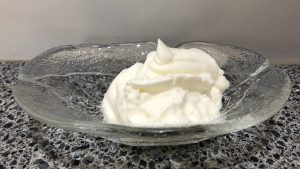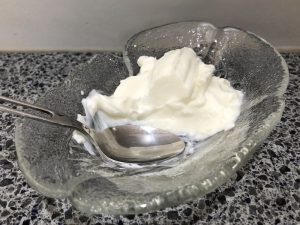 Procal skyr is thick and holds its shape.  Its texture is smooth and there is a creamy mouthfeel not present in the other two skyrs in this review.  This skyr is fairly acidic.  Also present is an oddly metallic (but not unpleasant) aftertaste; we cannot recall if authentic Icelandic skyr has this flavour.
Ingredients
Skim milk, Milk solids, Live yoghurt cultures
Nutritional information per 100 g
Energy 277 kJ
Protein 11.1 g
Fat 0.2 g
Carbohydrate 4.8 g
Sodium 52 mg
Calcium 305 mg
Procal Dairies Skyr comes in 180 g tubs and is currently available only in Coles supermarkets.  There are also some flavoured varieties.
Nudie Icelandic Yoghurt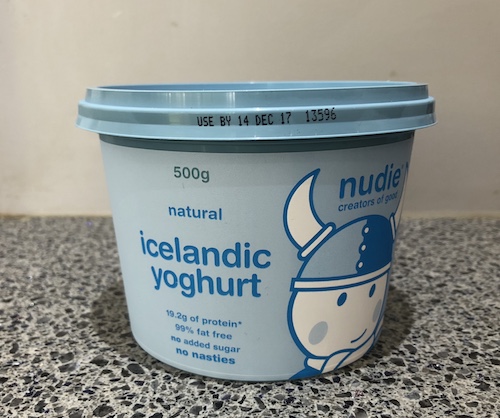 Trendy Sydney-based nudie Foods sells Icelandic Yoghurt without calling it skyr.  It proudly declares that some of the yoghurt cultures come all the way from Iceland.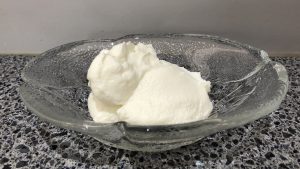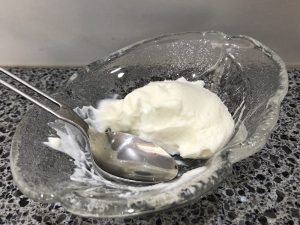 Nudie Icelandic Yoghurt holds its shape well. It has a slightly gritty mouthfeel reminiscent of natural European-style yoghurt.  It is less acidic than Procal Dairies Skyr and has a pleasant, almost sweet, aftertaste.
Ingredients
Filtered milk, Milk solids, Yoghurt cultures
Nutritional information per 100 g
Energy 263 kJ
Protein 11.3 g
Fat 0.3 g
Carbohydrate 3.8 g
Sodium 44 mg
Calcium 340 mg
Nudie Icelandic Yoghurt is available in 500 g tubs and can be found in Woolworths supermarkets.  There are also some flavoured varieties available in smaller tubs.
Woolworths Icelandic Style Skyr Yoghurt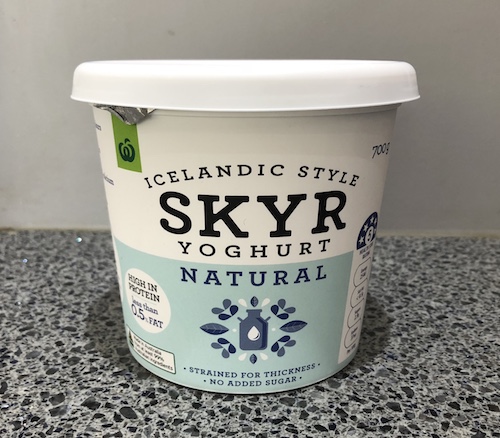 Not to be left out, Woolworths is selling a store-brand version of skyr.
Woolworths Skyr is much less thick than the other two in this review and doesn't hold its shape as much.  It has a smooth mouthfeel but little acidity or aftertaste.  We found it to be fairly bland overall and probably couldn't distinguish it from many Greek-style yoghurts already on the market.  The nutritional information is generally lower in most categories which suggests that this skyr has a higher water content than the other two and perhaps hasn't been strained as thoroughly.
Ingredients
Pasteurised skim milk, Skimmed milk solids, Lactic starter culture
Nutritional information per 100 g
Energy 254 kJ
Protein 9.6 g
Fat < 0.5 g
Carbohydrate 4.9 g
Sodium 37 mg
Calcium 134 mg
Woolworths Skyr is available in 700 g tubs and is (obviously) only available in Woolworths supermarkets.
Conclusion
The warden and two inmates of Ice Moon Prison tried all three in a non-blind taste test.  None of us preferred the Woolworths Skyr; we all thought it was fairly flavourless.  Opinion was split between the Procal and nudie products, primarily on the strength of flavour.  We concluded that the Procal skyr is the boldest of the three and most likely to be an acquired taste.  The nudie Icelandic Yoghurt is likely to appeal the most to casual plain yoghurt eaters.